Genuine bullpup design, Semi auto action pre-charged pneumatic (PCP) air rifle.
Available in .177 (4.5mm), .22 (5.5mm) and .25 (6.35mm) caliber.
Detachable 14-shot magazine in .177 (4.5mm), 12-shot magazine in .22 (5.5mm) and 10-shot magazine in .25 (6.35mm) caliber.
Fully shrouded, precision rifled and choked barrel for accuracy
500cc volume air bottle mounted in the forearm.
Includes 3 magazines.
Includes quick-fill nozzle.
Tactical style ambidextrous stock with thumbhole
2 spare magazine carrying slots in the stock
Accessory picatinny rail beneath the forearm.
"EasyAdjust" Elevation Comb – Stock equipped with integrated elevation adjustment button
Ventilated rubber butt pad
Built-in pressure gauge to monitor the cylinder pressure.
Picatinny rail for both 11 mm and 22 mm scope mounts.
Overall blued finish, black anodized receiver.
Patented anti-knock system to prevent discharge of the rifle when rifle is knocked or bounced.
Manual safety.
Black metal trigger.
Fitted sling swivels.
Hard case is included.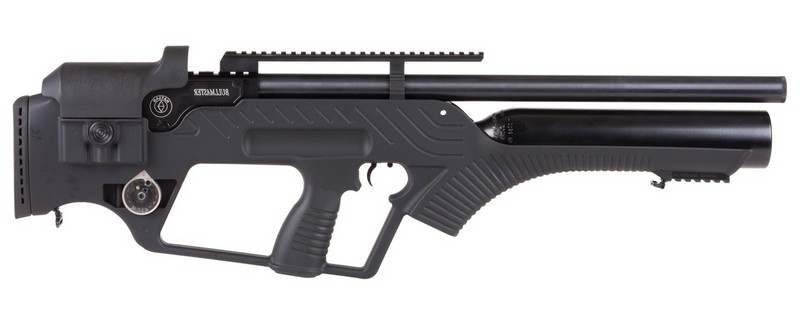 Specifications:
Caliber - 5.5mm / .22cal
Max. Muzzle Velocity - 295m/s 970fps
Energy - Joules 42
ft.lbs -31
Magazine Capacity - 12
Air Tube Volume - 500+30cc
Fill Pressure - 250 BAR
Number of Shots in semi auto at Optimal Velocity - 120
Stock - Bullpup, advanced polymer, thumbhole, elevation adjustable combo, adjustable but pad.
Overall Length - 785mm
Barrel Length - 500mm
Average Weight - 4.7 kg