The Pellet Gun Shop
For all your pellet gun and accessory needs. Prices are flexible make me an offer
UMAREX UX AirSaber 2252659 PCP Archery Rifle

Umarex's AirSaber is flinging arrows with no strings attached!
The Umarex AirSaber uses high-pressure air to propel a 376-grain arrow at velocities up to 450 feet per second with a fully charged air tank.
Arrows shot from a full tank reach energy levels over 169 ft-lbs.
This is more than enough for hunting big game and is, in fact, legal in 10 states for deer and most states allow for predator/feral species hunting with devices of this kind.
The AirSaber uses a special carbon-fiber arrow that weighs 276 grains by itself.
These arrows accept standard and mechanical broadheads and are easily changed out.
Shooters can expect to get 25 shot at big game lethal energy on one fill or 30 shots of predator lethal energy.
The tank pressurizes at 3,625 PSI and the AirSaber comes with a Foster fitting fill probe for easy fills with an HPA compressor, hand-pump, or SCUBA tank.
The AirSaber is accurate out to 70 yards and has a top Picatinny rail for mounting an optic of your choice. Unlike other arrow shooting rifles the AirSaber has a sleek form and a price that's hard to beat.
The AirSaber comes with 3 arrow tipped with 100 grain field points and the required fill probe.

TRIGGER ACTION - Single
VELOCITY - 450 FPS
BARREL LENGTH - 23 inches
SAFETY - Manual
CAPACITY - 1
SIGHTS - No Sights
LENGTH OF PULL - 14.5 Inches
WEIGHT - 6.3 LBS
ACTION - Bolt Action

Use ONLY Umarex AirSaber Arrows with the AirSaber arrow gun. Use of other arrows can cause serious injury or even death.
AirSaber arrows are engineered for strength sufficient to handle extremely high PCPpressure.
Arrows for bows and crossbows are not strong enough to withstand the high pressure and can explode when pressurized.
This can cause serious injury to the shooter and bystanders.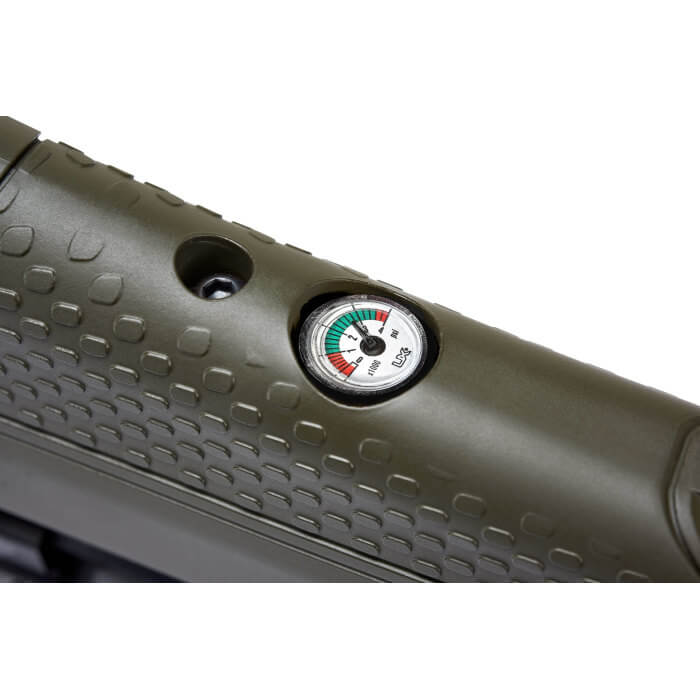 © 2022 PL Dogon